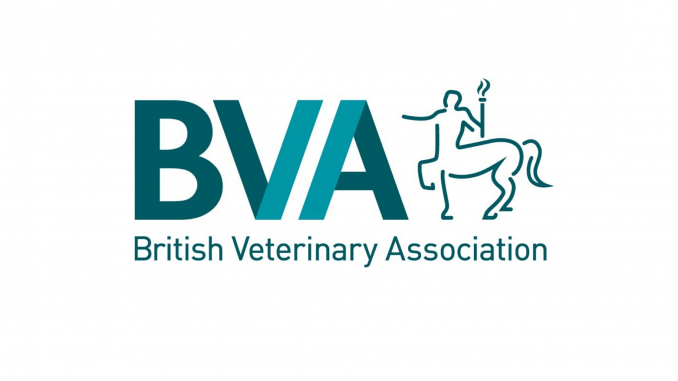 British Veterinary Association (BVA) Welsh Branch has welcomed farm vet and academic Gwen Rees as its new President following its Annual General Meeting on Tuesday 27 June 2023. Gwen was officially welcomed into office by BVA President Malcolm Morley later that evening at BVA's prestigious annual Welsh Dinner.
Gwen takes over from the previous President Collin Wilson, following her two years as Junior Vice President. Collin will move into the role of Senior Vice President and the Officer team will be completed by new Junior Vice President Phoebe McCarter.
Gwen is well known among the Welsh farming and veterinary community as the project lead for Arwain DGC's Veterinary Prescribing Champions Network, a Welsh Government-funded national antimicrobial stewardship programme. The success of this project has inspired the UK-wide launch of the Farm Vet Champions programme, and her work was recognised by the RCVS in 2021 when she was awarded the RCVS Impact Award.
Graduating from the University of Liverpool in 2009, Gwen worked in mixed and farm practice in Wales and New Zealand before achieving her doctorate in Clinical Veterinary Medicine from the University of Bristol in 2019. She has worked with RCVS Knowledge on their EBVM learning platform and was one of the founding academics at Wales' first veterinary school, at the University of Aberystwyth, where she now works as a lecturer. Gwen is a trustee of the Animal Welfare Foundation, has been an active member of BVA Welsh Branch Council for the last eight years and is a valued member of the Editorial Board and Associate Editor for the Veterinary Record Case Reports.
On becoming President, Gwen said: "I look forward to my time as Welsh Branch President. I am passionate about supporting the veterinary profession in Wales in all its variety. I believe that being a vet in Wales should be something people aspire to, and that we can act as a role model for the profession across the UK. It is a profession I am proud to be a member of, and BVA Welsh Branch works hard to show that Wales can lead the way with a forward-thinking approach to animal health and welfare, to prescribing medicines responsibly, and to the wellbeing of our vets and vet nurses. I would also like to both thank and congratulate Collin on a very productive term as President."
Gwen also plans to concentrate on several issues affecting animal welfare. "While responsible prescribing will remain an issue very close to my heart during my term as President, I am also keen to tackle the many other challenges facing vets in Wales today. We need a strong workforce of happy and fulfilled vets, with a focus on developing good workplaces and a sustainable model of veterinary training. Other areas of focus over the next two years include dog breeding, the ongoing endemic disease challenges including bovine TB and Avian Influenza, embedding vets at the heart of the Sustainable Farming Scheme and ensuring the animal welfare measures that would have come into force with the failed Kept Animals Bill remain on the political agenda."
BVA President Malcolm Morley congratulated Gwen on her appointment as President. He said: "Gwen has already proved herself an invaluable member of the team during her term as Junior Vice President and I look forward to working with her even more closely. There are many challenges on the horizon for Wales, from endemic diseases to veterinary capacity, and I'm delighted that we will benefit from Gwen's extensive understanding of the farming community here in Wales as we navigate these issues."
In his speech at the dinner, attended by more than 85 guests, Malcolm urged decision-makers to provide sustainable funding for the veterinary school in Aberystwyth, supporting its growth as a flagship institution. Addressing guests, including Minister for Rural Affairs and North Wales, and Trefnydd Lesley Griffiths and key representatives from animal health and welfare organisations and colleagues from across the veterinary profession, he said: "By delivering top-tier education, cutting-edge facilities, and robust research programs, we can attract, educate and retain a new generation of skilled vets to safeguard animal wellbeing, and promote the sustainable growth of the Welsh agri-economy. Through a collaborative ecosystem that bridges academia, industry, and the community, the veterinary school will also become a vibrant hub for innovation, entrepreneurship, and knowledge exchange, maximising its value to the veterinary profession and wider society in Wales."
Speaking about the Sustainable Farming Scheme in Wales, Malcolm highlighted the role of vets as trusted advisors to farmers and called for more clarity on how the Sustainable Land Management scheme will support animal health and welfare beyond the legal baseline.
Praising Wales as a leader in the fight against antimicrobial resistance, Malcolm drew attention to the interlinked initiatives of projects like Arwain Vets Cymru and Arwain DGC. He added: "Their commendable One Health approach to preserving these vital medicines for the wellbeing of both animals and humans sets an exemplary standard. We're now calling for a sustainable funding model to future-proof the remarkable work Wales has done to date on antimicrobial stewardship in livestock. Furthermore, we should encourage an expanding remit to tackle this issue in companion animals and horses."
The BVA President ended his speech by thanking Collin Wilson for his excellent contributions to the team and for his dedication to BVA Welsh Branch. Collin has also recently been awarded the RCVS Impact Award for his long and impactful career in veterinary public health and food safety.
As part of the network of devolved and specialist divisions, BVA Branches contribute local knowledge and expertise to BVA's wider lobbying and representational activities.
For more information about BVA Welsh Branch, please visit https://www.bva.co.uk/about-us/our-structure/welsh-branch/