Diagnostic imaging experts, Hallmarq Veterinary Imaging and VetCT, are raising awareness surrounding the accessibility of advanced diagnostic imaging for horses. Recent advances in technology, along with the use and interpretation of affordable CT and MRI, have resulted in more vets using both modalities where suitable cases present. This increased access to advanced diagnostics has led to improved patient outcomes. Comprehensive support for image acquisition and expert image reporting through teleradiology mean more practices than ever can enjoy the benefits of state-of-the-art imaging.
Hallmarq's innovation in developing standing MRI and CT scanners enables vets to see more horses as day patients. Alongside current excellent referral processes, awareness is being raised that CT and MRI are more accessible than ever to equine practices. Practices with a scanner can invite neighbouring vets to image their patients, and with the addition of VetCT's teleradiology, rapid interpretation of images by an equine specialist radiologist is provided to make the process as seamless as possible.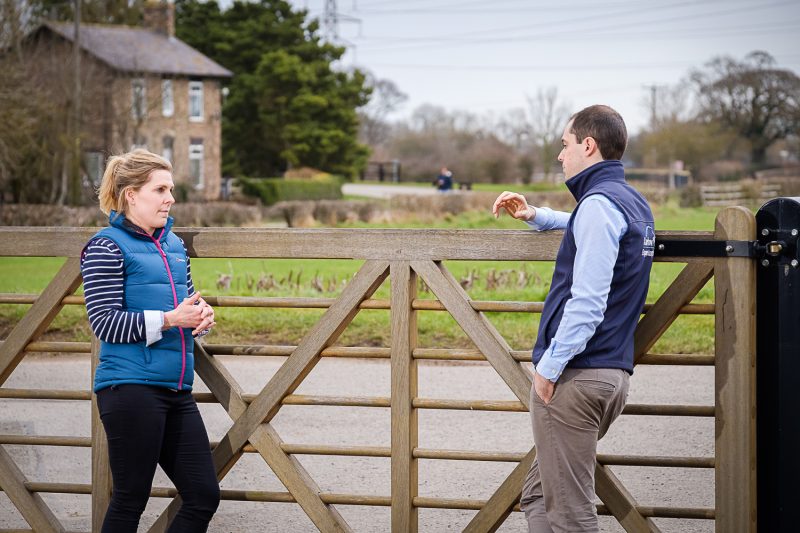 In addition, Hallmarq provides extensive training and support to practices to optimise machine use, with advice regarding case selection and image optimisation provided by VetCT's equine clinicians. Such support enables the optimisation of machines as both a revenue-providing tool, and importantly to increase patient welfare.
Charlotte Graham, Equine Teleradiology Manager at VetCT, says, "We want to support practices in using more advanced imaging to provide better outcomes for their patients. Not having an in-house radiologist no longer needs to be a barrier to accessing CT or MRI, as we provide a rapid expert report on acquired images. We also offer support to practices that do have their own in-house radiology team, offering as-needed assistance should caseloads be high or members of the team absent. Our service means every practice can benefit from expert radiologists working together as part of the team, ultimately improving horse welfare."
Holly Johnson, Equine Clinical Product Manager at Hallmarq adds, "Our aim is to increase access to advanced diagnostics for improved patient outcomes. We help vets make the most of their equipment and our machines have evolved to be efficient, effective, and affordable hardworking additions to practices. Standing imaging has reduced resources previously needed by veterinary teams to acquire advanced diagnostic images. Vets also benefit from Q-Care our comprehensive support programme that includes our account management for marketing guidance, image quality support and training."
The synergy of the two companies promises to ease workflow and offer an attractive option for vet practices to expand their imaging abilities. Both Hallmarq and VetCT will be at BEVA Congress from 8th-10th September at stands G18 and B14 respectively. Visit their stands for more information or further information can be found at https://hallmarq.net/ and https://www.vet-ct.com/gb/
About Hallmarq Veterinary Imaging
Hallmarq is an award-winning global leader in innovative animal specific diagnostic imaging solutions. The company was co-founded 20 years ago by horse-owner Dr Nick Bolas who wanted to develop a diagnostic imaging system that would assist vets to accurately diagnose a horse's injury. He and a team of imaging experts, many of whom remain with the company to this day, worked with local vets in the South-East of the UK, to develop the world's first Standing MRI system for horses. Since then, Hallmarq has continued to improve equine MRI technology and has also gone on to develop a vet-specific, small animal MRI system and Standing Equine Leg CT (slCT) system, using expertise from across the company.
As industry specialists, they focus on providing safe, convenient, and affordable advanced imaging for practising vets worldwide. With a shared passion for improving animal health, they have partnered with customers since 2000 to support over 300,000 equine scans in 25 countries. Their exclusive dedication to the industry, and the exceptional support they provide to their customers, has resulted in increased access to advanced imaging systems for equine and small animal practices around the globe. Hallmarq Veterinary Imaging Ltd has offices in the U.K. and North America.
Find out more at www.hallmarq.net or on LinkedIn, Facebook, and Twitter.
About Vet CT
Established in 2009 in Cambridge, UK, VetCT provides supportive, educational teleconsulting and teleradiology and novel educational strategies for veterinary medicine. Global expansion led to the formation of VetCT Australia in 2015 and VetCT US in 2017. We work with clients across the entire veterinary ecosystem, including students and universities, first opinion practitioners, and referral centres.
The company has over 250 staff globally, including Diploma-holding veterinary experts in every clinical discipline.
VetCT was built on the principles of high quality, professional work and outstanding customer service. Our Diploma-holding vets are carefully hand-picked for their supportive attitude to our clients and their passion for patient care. We perform daily quality assurance and clinical audits to make sure that our high standards are upheld and surpassed. As a result, we attract experienced, motivated and compassionate specialists.
We're champions of quality and highly ambitious in our pursuit of excellence. For more information, please visit www.vet-ct.com.
Contact us:
Phone: +44 (0) 1223 790439
Email: info@vet-ct.com
Address: Broers Building, 21 JJ Thomson Avenue, Cambridge, CB3 0FA, United Kingdom
Facebook – @VETCTGroup
LinkedIn URL – https://www.linkedin.com/company/vet-ct-specialists-ltd-/
Twitter – @VetCT
Instagram – @vet.ct