Purina has launched a 30-page e-book that explores new models around how weight management in pets could be tackled with clients. Entitled 'New Perspectives on Pet Obesity, Moving to a Behavioural Science Model', the publication includes interviews with some of the key researchers and thought leaders in the field, including Professor Jeff French, Hugues Ruault du Plessis and Professor Thomas Webb. Also included are clinical research summaries and a host of practical tips to help communication around these issues in practice. The e-book is available as a download from https://www.vettimes.co.uk/purina-obesity-ebook/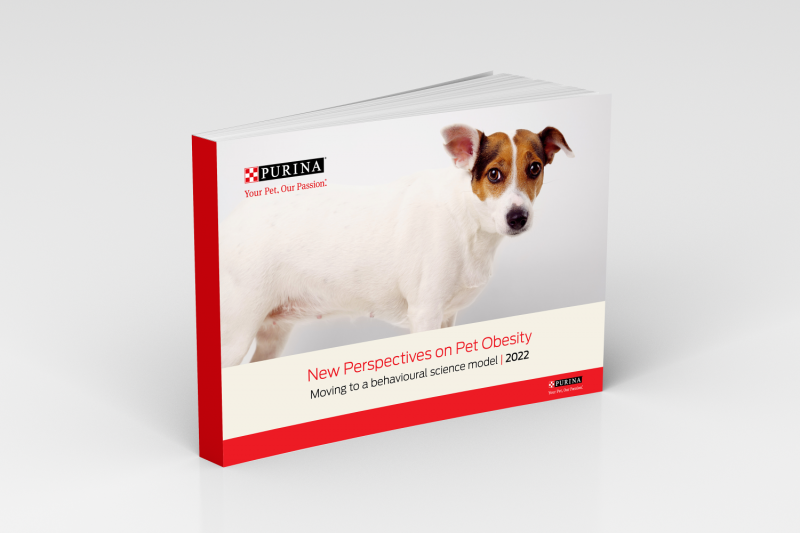 Professor Jeff French PhD, MBA, MSc, Dip HE, BA, Cert. Ed, is a global leader in behaviour programme design and Social Marketing. Jeff has published over 90 chapters, articles and books and his chapter in the e-book focuses on ways to influence owner behaviour. He observes that, "Approval and social support have a strong and persistent influence on behaviour…. People are often motivated to do what is considered to be the 'right thing'." 1
Many decisions are made using System One thinking which uses ideas, memories and situational prompts to arrive at fast and confident decisions. System Two thinking is slower, uses evaluation, planning, and abstract concepts. It is this understanding that in 'fast thinking mode' people are generally overly optimistic, very loss averse, prefer the status quo and do not like to be confronted by too many difficult decisions, that helps form the basis of this model.² Stanovich and West's research, along with others in the field of decision making, has enhanced understanding of how we engage with suggested change and led to the development of more effective behavioural interventions over the last twenty years.¹
Professor Thomas Webb has collaborated on a number of projects with Purina around owners' beliefs and behaviours with respect to their animals. He describes how the COM-B model³, which refers to Capability, Opportunity, Motivation – Behaviour, can be applied to help manage pet obesity. He says the advantage of this model is that it, "….recognises the importance of motivation, but suggests that people also need to be and feel capable of taking action and have the opportunity to do so."
Hugues du Plessis has a long career in the field of human obesity and the development of strategies to support people lose excess weight. His mission at Purina is to work to systematically integrate information around healthy and balanced behaviours, and help give vets the tools to start open, non-judgemental conversations with owners.
Purina's Scientific Affairs Manager for the UK and Ireland, Libby Sheridan, says, "Pet obesity is a challenge that veterinary teams face every day, with six in ten dogs and cats overweight or obese, making obesity one of the most common medical conditions in pets worldwide.4,5 This e-book delivers a thought-provoking new take on pet obesity which I hope will inspire teams in veterinary practices to adopt innovative approaches to support their clients and achieve positive outcomes for their patients."
The e-book is suitable for all members of the veterinary team who are involved in weight management clinics or have an interest in developing new strategies to better communicate with and support pet owners.
References
New Perspectives on Pet Obesity, Moving to a Behavioural Science Model, a Purina e-book https://www.vettimes.co.uk/purina-obesity-ebook/
Stanovich, K. E., & West, R. F. (2000). Individual differences in reasoning: Implications for the rationality debate? Behavioral and Brain Sciences, 23(5), 645–665. https://doi.org/10.1017/S0140525X000034353.
Michie, S., van Stralen, M. M., & Robert West, R. (2011). The behaviour change wheel: A new method for characterising and designing behaviour change interventions. Implementation Science, 6, 42. doi: 10.1186/1748-5908-6-42
Bomberg E, Birch L, Endenburg N, German AJ, Neilson J, Seligman H, Takashima G, Day MJ. The Financial Costs, Behaviour and Psychology of Obesity: A One Health Analysis. J Comp Pathol. 2017;156(4):310-325. doi: 10.1016/j.jcpa.2017.03.007.
German AJ. Weight management in obese pets: the tailoring concept and how it can improve results. Acta Vet Scand. 2016;58(Suppl 1):57. doi:10.1186/s13028-016-0238-z
ABOUT PURINA PETCARE UK
The bond between pets and people is truly unique. Built on shared companionship, experiences and love, it inspires our belief that when people and pets bond, life becomes richer. That's why we've been developing great tasting, life-enhancing food for cats and dogs of all ages and lifestyles for over 125 years.
Our portfolio of much-loved brands touches millions of lives every day. By offering a wide range of prices and nutritional quality – from good to exceptional – we make sure that complete and balanced nutrition is available to everyone.
As pet lovers and owners ourselves, we know how quality nutrition can help pets and their owners live happier, healthier and longer lives together. Creating richer lives for pets and the people who love them is what we do best and why we exist.
Pets and people are better together.
For more information, visit the Purina website: www.purina.co.uk
*Reg. Trademark of Société des Produits Nestlé S.A.