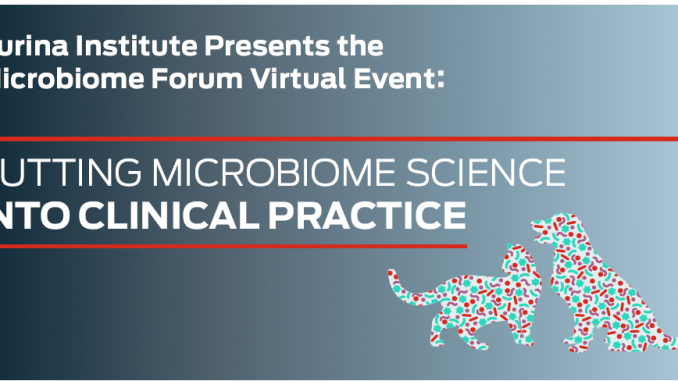 The Purina Institute is hosting a two-day virtual symposium focussing on putting microbiome science into clinical practice. The event, which counts for 5 hours of CPD, will bring global experts together to present the latest cutting-edge research and translate it into actionable interventions relevant to vets in practice. Delegates will pick up key tips on best practice, including how to implement microbiome-centric approaches to facilitate case management. The event is spread over two afternoons, running from 3pm to 6:30pm on Wednesday October 20th and Thursday October 21st, and all those interested can view the full agenda and register at https://purina.institute-microbiomeforum.com/.
With the microbiome now at the forefront of scientific discovery, this topic is of great interest to vets, but it can be difficult for practitioners to know how to apply the latest research in a clinical setting. This Microbiome Forum event provides a valuable opportunity for delegates to learn about clinically relevant microbiome science in a non-product-promotional setting.
The event features presentations from world-renowned experts, beginning with a keynote address from Dr Jan Suchodolski, Associate Professor of Small Animal Internal Medicine and Associate Director for Research at Texas A&M University's Gastrointestinal Laboratory. Dr Suchodolski will start the symposium off with a fascinating discussion of the gut microbiome's key role in host health.
Following the keynote address, other world-class speakers will delve into various aspects of microbiome research and explore their implications. Amongst the topics to be covered is the gut-brain axis, with Dr Karin Allenspach providing in-depth information on the growing evidence supporting the pivotal role of this axis in cognition, anxiety and epilepsy in both humans and pets.
Probiotics and synbiotics will also be discussed in detail, with Dr Gail Czarnecki-Maulden exploring the common myths and misconceptions about their characteristics and actions. Her talk will cover how probiotic strains are identified and developed, and Dr Mike Lappin will later supply practical guidance on how to select the appropriate pro- and synbiotics for clinical cases.
Towards the end of the symposium, interactions between diet and the microbiome will be examined by Dr Valerie Parker and Dr Cecilia Villaverde. Delegates will learn about the impact of diet on the microbiome in health and disease, and how nutrition can play a role in microbiome-centric case management.
Many other topics will be covered over the two-day event, from the impact of dental disease on the oral microbiome to the current evidence for faecal microbial transplantation. At the end of each day, there will be a 45-minute Q&A session with all presenters so that delegates can gain further insights from the speakers.
Dr Libby Sheridan, PURINA® Scientific Affairs Manager for the UK and Ireland, says that the company is proud to host such a high-profile event to help vets in practice benefit from the latest research. "We are delighted to bring together so many stellar speakers to make the latest cutting-edge research accessible and relevant to vets in practice," she says.
The symposium is free to attend and will be available on demand for registrants to view after the live event. All those interested can see the full agenda and register at https://purina.institute-microbiomeforum.com/.