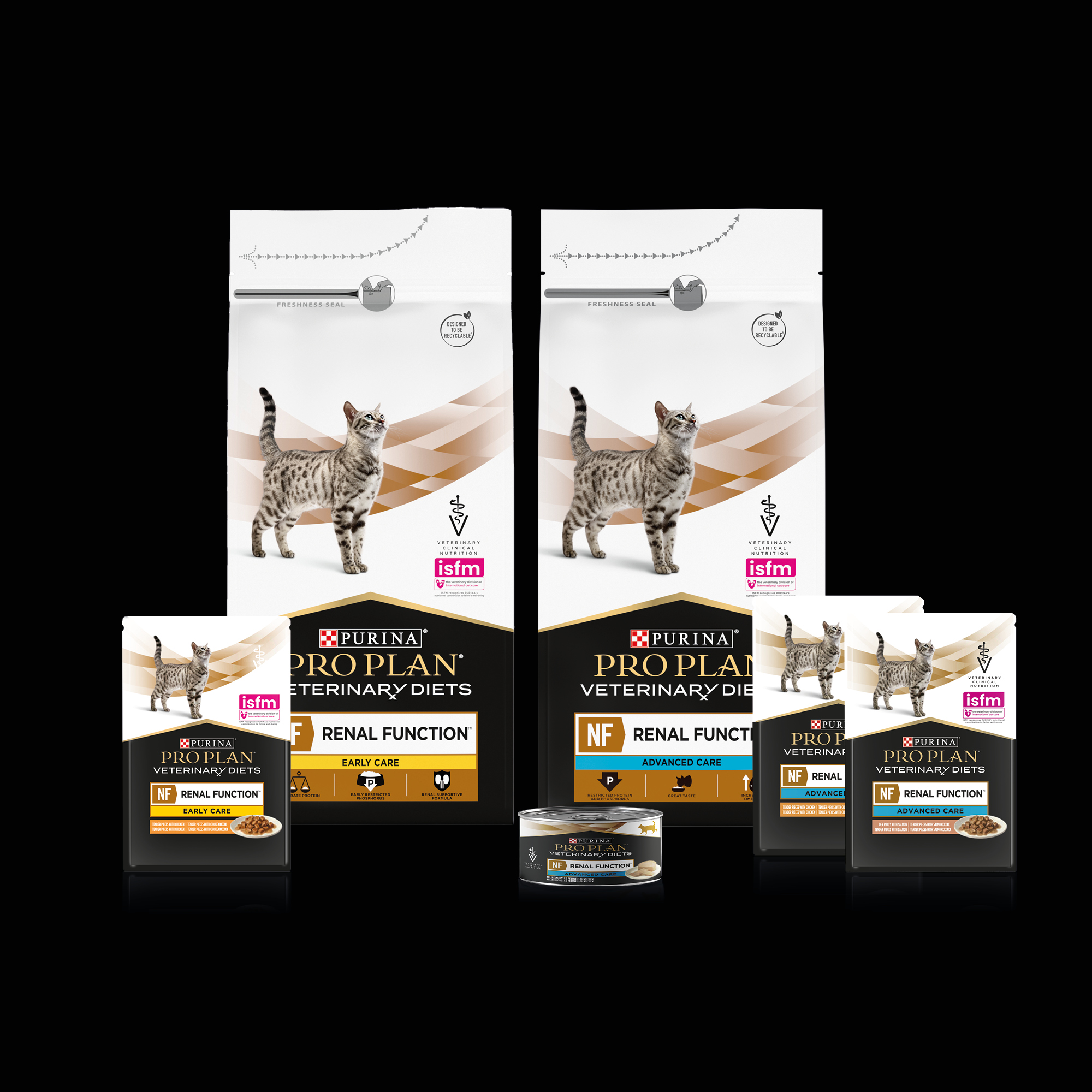 Purina is launching two new veterinary diets which aim to tackle the protein paradigm that affects cats in the early and advanced stages of renal disease. PRO PLAN® Veterinary Diets NF Renal Function™ Early Care and PRO PLAN® Veterinary Diets NF Renal Function™ Advanced Care are formulated to meet the nutritional needs of cats in International Renal Interest Society (IRIS) stages 1&2 (early phase) and IRIS stage 3&4 (late phase) respectively. Specifically, the foods contain adjusted and graded levels of protein and phosphorus, to address the delicate balance of providing needed protein in older cats against uraemic toxin production in late phase renal decline. The current advice is that phosphate should be restricted when the renal patient has confirmed CKD, and IRIS provides therapeutic serum phosphate targets for each stage. Dietary phosphorus restriction within the new products helps to provide nutritional support towards the meeting of these goals.
Dr. Ellie Groves BA(Hons) VetMB MRCVS, Purina Technical Manager for the UK and Ireland, explains the protein paradigm, "As obligate carnivores, cats have a high requirement for protein, however, around 20% of senior cats have decreased ability to digest protein, and so are absorbing less protein. An inadequate intake of protein leads to loss of lean body mass as muscle is catabolised to meet this need. We know that this loss of lean body mass is significantly correlated with an increased risk of mortality. But we need to be careful – in renal disease, there is the potential for protein breakdown products to increase in the circulation, acting as toxins. So, we need to fine-tune the amount of protein, depending on the stage of chronic renal insufficiency (CRI). A dual approach, with Early and Advanced products, allows tailoring of protein levels."
She continued, "Alongside protein, phosphorus content is also tailored to the stage of kidney decline. Restricting phosphorus can slow the progression of chronic kidney disease by reducing morphological damage to the kidneys and is thought to be the most important influencer of survival in cats with CKD. The levels of phosphorus in the products are tailored, alongside the protein, to reflect the needs of the cat, with increased restriction when cats are in advanced decline and the kidneys are struggling most."
PRO PLAN® Veterinary Diets NF Renal Function™ Early Care contains additional omega-3 fatty acids, potassium and antioxidants to support in early stages and omega-3 fatty acids are further increased in later stage Advanced Care.
Palatability and choice are important considerations as older cats with CKD can become inappetant or experience nausea. NF Renal Function™ Early Care is available in a dry format (1.5kg) and a pouch (tender pieces with chicken 85g) to tempt the appetite. PRO PLAN® Veterinary Diets NF Renal Function™ Advanced Care has high palatability to encourage cats to eat and is available in 1.5kg and 5kg packs of dry food, and 'wet' options of tender pieces with chicken/ salmon (85g pouches) and a mousse (195g can). The energy content of Advanced Care NF is also increased to ensure that the calorie requirement can be met in a relatively smaller volume of food.
Both PRO PLAN® Veterinary Diets NF Renal Function™ Early Care and PRO PLAN® Veterinary Diets NF Renal Function™ Advanced Care are now available in veterinary wholesalers.
ABOUT PURINA PETCARE UK
The bond between pets and people is truly unique. Built on shared companionship, experiences, and love, it inspires our belief that when people and pets bond, life becomes richer. That's why we've been developing great-tasting, life-enhancing food for cats and dogs of all ages and lifestyles for over 125 years.
Our portfolio of much-loved brands touches millions of lives every day. By offering a wide range of prices and nutritional quality – from good to exceptional – we make sure that complete and balanced nutrition is available to everyone.
As pet lovers and owners ourselves, we know how quality nutrition can help pets and their owners live happier, healthier and longer lives together. Creating richer lives for pets and the people who love them is what we do best and why we exist.
Pets and people are better together.
For more information, visit the Purina website: www.purina.co.uk
*Reg. Trademark of Société des Produits Nestlé S.A.