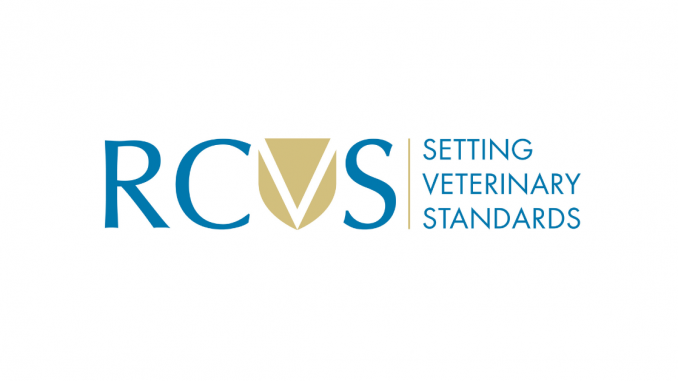 On Friday 11 November, the RCVS welcomed new Fellows and board members at the first in-person Fellowship Day since 2019.
The event, which took place at The Royal Institution in London, saw some 30 new Fellows formally welcomed to the Fellowship as well as those who gained their FRCVS titles back in 2020 and 2021. Hosted by outgoing Chair of the Fellowship Board, Professor John Innes FRCVS, the day also saw the official instatement of the new Chair of the Fellowship Board, Dr Chris Tufnell FRCVS, as well as new Chair of the Fellowship Science Advisory Panel, Professor Anna Meredith FRCVS, and new Fellowship Projects and Engagement Officer, Dr Emma Milne FRCVS.
The day began with a welcome speech from Prof Innes, who then invited Fellows from 2020 and 2021 to the stage for group photos. He then proceeded to formally welcome the 2022 Fellows to the Fellowship, who were each handed scrolls by RCVS President Melissa Donald. Following the presentation, in her address to the new Fellows, Melissa said: "Whilst you have all succeeded in doing this as individuals, and continue to do so, the power of the Fellowship is, in my opinion, about being able to maximise impact by speaking together as a Fellowship. In this respect, there is still a long way to go in this newly revived society.
"So I hope that as we celebrate here today with the incoming Fellows, that we also take time to consider what being a Fellow means to us, and how the title is perceived by other members of the profession and by the wider world too."
Midmorning saw student vets Maxim Bembinov, Sol Elliot, and Eleanor Wilson take to the stage to present their research as part of the Fellows of the Future competition. The competition, which was established to encourage students and graduates currently involved in research to share their work, had a total of 13 entrants, with the top three entries being chosen to present at Fellowship Day. Each student had five minutes to present their research and a further two minutes to answer questions from the judging panel. Maxim Bembinov, a Royal Veterinary College student, was judged as the winner of the competition for his research into 'Colour Doppler Ultrasound as a Diagnostic Tool for Equine SDFT Lesions'.
Additionally, there were two panel discussions on the day as well as a keynote speech from Professor Alan Wilson. The first panel discussion, entitled 'Maximising Good Outcomes', centred around quality of life and was chaired by the new Chair of the Fellowship Science Advisory Panel, Professor Anna Meredith. The panel was made up on Dr Karen Hiestand MRCVS and Dr Vanessa Ashall MRCVS. The second panel discussion, entitled 'Animal Behaviour Therapy – is it an act of veterinary surgery and should it be regulated?' was introduced by Ben Myring, RCVS Policy and Public Affairs Manager, and chaired by Dr Chris Tufnell, new Chair of the Fellowship Board. Keynote speaker, Professor Alan Wilson, world-renowned expert in the locomotory mechanics of animals, then took to the stage to give his keynote speech on 'Fast Animals: Anatomy of Athleticism'.
To round off the day, Professor John Innes welcomed new Fellowship Board members, Dr Chris Tufnell, as Chair of the Fellowship Board, Professor Anna Meredith, as new Chair of the Fellowship Science Advisory Panel, and Dr Emma Milne as new Fellowship Projects and Engagement Officer. He then gave an address as outgoing Chair of the Fellowship Board, saying: "In my three years as Fellowship Chair, I have seen what this learned society can do first-hand, and, though circumstances have been difficult for the Fellowship as they were with everyone else, the fact that we have continued to expand both in numbers and in what we do, has been fantastic.
"On the numbers, despite its challenges 2020 saw a bumper crop of new Fellows joining the profession and we've also seen an uptick in the proportion of women becoming new Fellows, something that definitely helps demonstrate that the Fellowship is a society for all, not just a certain group."
About the day, and on her appointment as Fellowship Projects and Engagement Officer, Dr Emma Milne said: "It was fantastic to see Fellows come together in person to share their knowledge and experiences. I particularly enjoyed the lively panel discussions and student presentations which not only provided an insight into the potential of the Fellowship, but a look into what the extended future of the Fellowship might look like.
"The Fellowship has been created for the benefit of all those in the veterinary professions to allow us to learn and develop together and give something back to our brilliant profession. I am delighted to be sitting on the Fellowship board as Projects and Engagements Officer and I would like to thank everyone who voted for me. I will endeavour to achieve as much as possible in my time on the board."
Dr Chris Tufnell, who gave an address as new Chair of the Fellowship board on the day, added: "Fellowship Day provided fantastic evidence of how keen the Fellows are to embrace opportunities that benefit not only our professions, but wider society too."It was exciting to see students taking part in the day as part of the Fellows of the Future competition and all three presentations were extremely impressive. As a Fellowship we need to be future focussed. Continuing to increase the diversity of the Fellowship and improving engagement, both with young professionals and the wider public, plays a key role in its progression. There are a huge number of things we could do as a Fellowship, but we need to focus on those with the greatest impact and we will be able to do far more when we collaborate with others."As Chair, I am going to be focussing on science, service, and trust. As a Fellowship we must work together to support those that have chosen careers of service to deliver the best veterinary science in an easily digestible manner. In that way we can all continue to strengthen public trust and move the profession forward. I'm excited that I'll be working with such a dynamic Fellowship board to explore the ways in which we can combine the art and science of veterinary medicine and to make the Fellowship the best it can be."
For more information on the Fellowship and new board members, please visit the RCVS website.