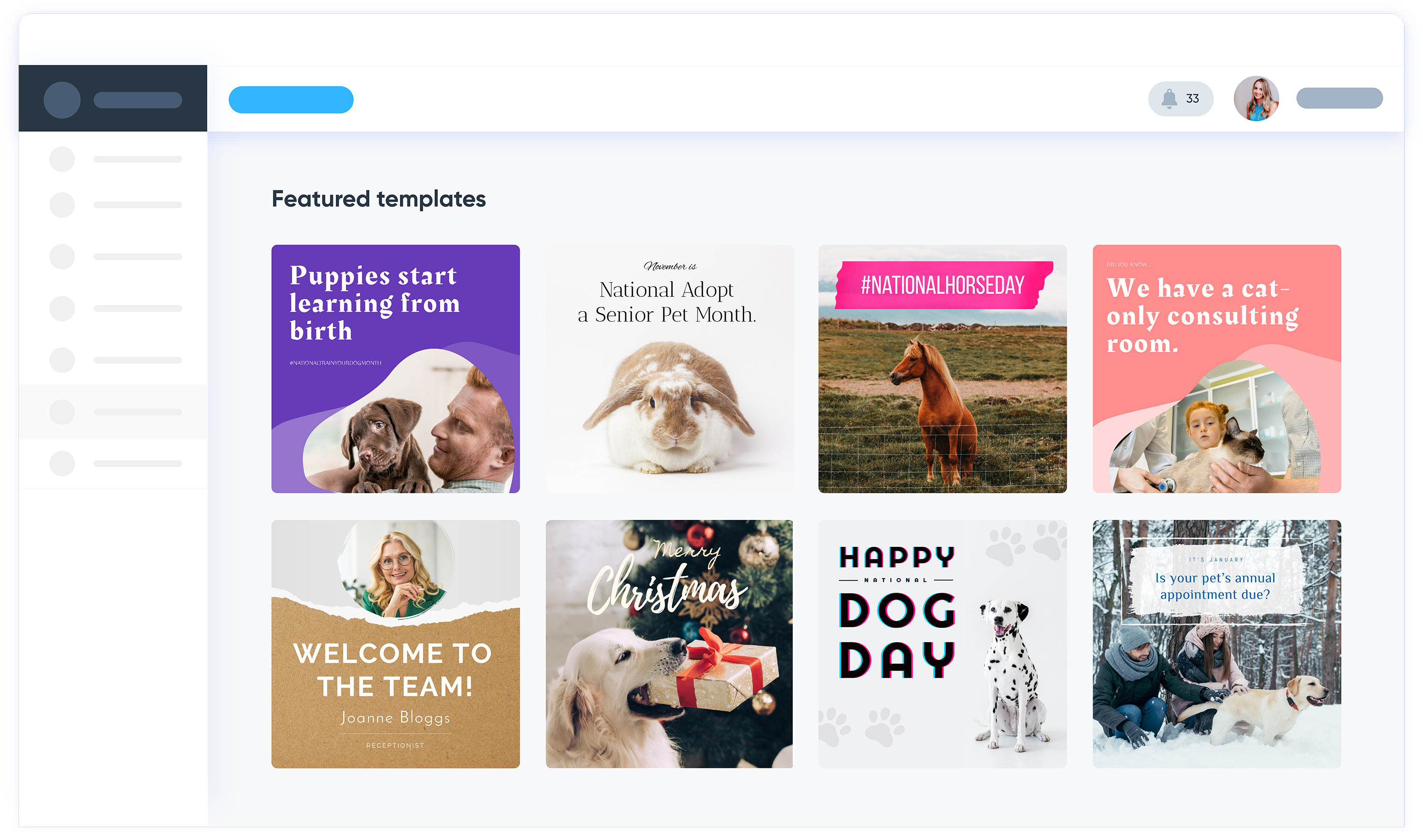 Digital marketing company, CoSend, has launched free marketing software at vetsocial.net for busy veterinary practices that want to save time, become more strategic and look more polished on their social media platforms. The practical tool seamlessly integrates multiple features, to plan, create and schedule content with ease, allowing practices to generate more revenue as a result. High-quality templates from professional designers curated for veterinary clinics and a relevant awareness day calendar can all be accessed via the free account.
Scott Bowler, Founder of parent company CoSend, has previously worked in marketing roles in veterinary practices. He explains the need for a one stop social media shop for the veterinary profession: "Most practices are short on time to spend creating high quality designs and important awareness days in the social media calendar or chances to promote services like dental checks or nurse-led clinics, are often missed. There is a big opportunity to grow loyalty, improve uptake of offers, such as pet health plans, and increase footfall, as well as boost owner compliance with clinic recommendations through educational content. It means the whole veterinary team can concentrate on servicing the needs of pets and clients without having to compromise on its marketing."
Veterinary services are evolving across the board, with strides in technology leading to huge advances in diagnostic and treatment capabilities. Social media is no exception, with many businesses looking to up their game in order to gain a share of voice in a crowded space, with 78% of the UK population now active on these platforms.*
The tool will allow practices to post all their content directly into Facebook, Instagram, Twitter, LinkedIn and Google My Business, with no need to log into each individually. Vet Social is accessible for individuals of all levels of experience – the free account gives access to an ever-growing library of templates that can be scheduled at the click of a button, or more advanced users can opt for a paid account which gives access to the design tool for editing of templates and creation of new designs using their brand fonts and colours.
A handy content discovery tool gives access to pet news and articles that can be shared to social media platforms within a matter of seconds, keeping the practice feed up to the minute with the big stories in animal health and welfare.
Vet Social also includes automated statistics and reports, to quickly evaluate the success of content and identify quick wins for future posts. This means that clinics can identify posts that will most effectively engage with their audience and generate interest in key services.
"Our team is on hand to help practices get started on our platform – and there are some great Christmas and New Year posts ready to go," says Scott. "We can also offer custom packages to suit the bespoke needs of larger practices or groups."
Practices can register for a free account here: https://app.vetsocial.net/register or find out more at www.vetsocial.net.