The three most common rabbit health issues are dental disease, gastrointestinal stasis and obesity, Supreme Petfoods' recent survey of UK veterinary surgeons1 has revealed. These conditions are intrinsically linked to the feeding of poor-quality diets and despite substantial improvements in nutritional knowledge among rabbit owners, 57 percent of rabbits are still being fed inappropriately.
Dental disease was seen most frequently, with 75 percent of vets reporting that they see affected rabbits regularly. Dental and other diet-related conditions occur partly because owners do not understand their pets' dietary requirements, in particular the importance of high fibre nutrition with no added sugar. Nearly 90 percent of vets said that rabbits often received inadequate quantities of hay, and the survey also revealed that feeding poor-quality concentrate foods, with low fibre and added sugary ingredients, is commonplace.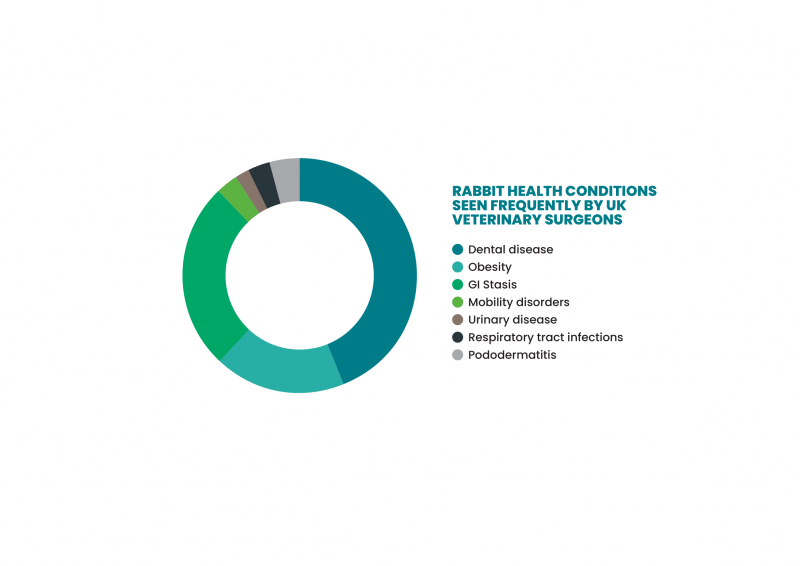 Claire Hamblion, Supreme's Marketing Director, explains that educating clients is crucial, "Owners want to do the right thing, but all too often lack of awareness about nutrition leads to poor health and wellbeing. The great news is that progress is being made. Well over half of UK rabbit owners now take their pet to the vet at least once a year2, and 79 percent of vets say that nutritional knowledge among rabbit owners has significantly improved. We're keen to build on this and are proud to offer not just high-quality species-specific nutrition but a range of educational materials as well as free samples to help veterinary teams engage with owners".
A high-quality, species-appropriate diet should include unlimited hay, a carefully measured portion of high fibre nuggets every morning and evening and a handful of fresh leafy greens. Recommended by over 90 percent of vets in the survey, Supreme's Science Selective rabbit lifestage diets are high in fibre, and rich in natural ingredients with no added sugar. When fed alongside unlimited hay, Science Selective supports dental and digestive health and the maintenance of a healthy weight and helps to reduce the risk of diet-related disease.
The survey also revealed that for rabbits requiring critical care nutrition, Supreme's Science Selective Recovery Plus, is the number one choice among vets for syringe feeding. With a high crude fibre content (25%) to support digestive health, Recovery Plus has added vitamin C and is rich in natural forage and herbs to stimulate appetite.
Owners recognise the importance of preventative health care, with routine appointments, including vaccinations, being the primary reason cited by owners for their visits to the vet (85 percent).2 These routine check-ups not only provide essential care, but also offer a valuable opportunity to educate owners and enhance rabbit health and wellbeing. Supreme provides a selection of educational materials, from care guides to educational blogs and free food samples, to support busy veterinary professionals in communicating with clients. With highly palatable diets like Science Selective, free samples prove particularly effective in starting rabbits on a lifelong journey of optimum nutrition and are an excellent tool for starting nutrition conversations. Supreme is committed to working with veterinary teams to improve owners' knowledge around rabbit nutrition, helping rabbits to live longer, happier, and healthier lives.
To find out more email experts@supremepetfoods.com or visit https://supremepetfoods.com/
Press contact: Katy Ellison, katy@companionconsultancy.com, Tel 07596 217372. Further images available on request.
References
Survey of 230 UK vets from Supreme's vet database, July 2023
Survey of rabbit owners from Supreme's database, October 2023
About Supreme Petfoods
Supreme Petfoods has specialised in the care and nutrition of small pets for 25 years. It was the first company to make species specific small animal diets that reflected their unique nutritional requirements. As well as offering the biggest range of species-specific foods, Supreme also manufactures all its herbivore diets in dedicated vegetarian facilities.
Only ingredients of the highest quality are sourced for use in the Supreme range of foods and the recipes are developed to be palatable without the use of added sugar.
Supreme recipes are all manufactured to a fixed formula to minimise the risk of gastric upset and while the company produces diets containing the highest fibre levels of any rabbit food, hay is always recommended as an additional food source to promote dental wear, provide environmental enrichment, foraging and nesting opportunities.
Find out more about Supreme at www.supremepetfoods.com or visit the company Facebook site. (www.facebook.com/supremepetfoods).