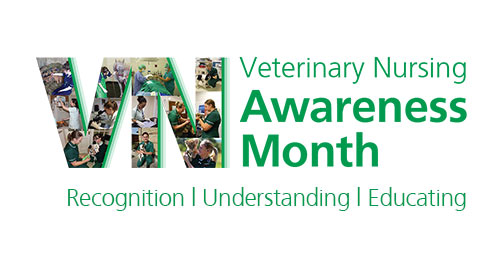 The aim of 'Veterinary Nursing Awareness Month' is to promote the importance of the veterinary nursing profession, the provision of responsible pet care and educate the general public about the different roles of nursing staff in practice.
Why is VNAM different this year?
Each year the BVNA ask Vet Nurses to organise events at schools, colleges and in their local communities, and for patients and pets, which will help educate the public and raise awareness about what Vet Nurses do. However, because of the restrictions placed on us currently, and not knowing how long social distancing will be enforced, BVNA have had to remove the face to face interactions and competitions and will be running the campaign strictly online and virtual.
There are two types of video they're asking Vet Nurses to record. The first video is simply about why they decided to become a vet nurse and what they love most about being a vet nurse. The second video could win a prize! We are asking Vet Nurses to record a short educational video, on topics such as dental health, cleaning ears, grooming, obesity or exercise, which helps pet owners care for their pets.
As well as video, the BVNA are also asking Vet Nurses to design a digital poster or infographic, showing the role of the Veterinary Nurse, using the hashtags #whatVNsdo #VNAM2020 #vetnurses, which could also win a prize!
Thanks to the sponsors this year, Avid/PETtrac, J.A.K Marketing Ltd, Petplan, MSD Animal Health, Hills, JHP Recruitment  & VN Times, the British Veterinary Nursing Association (BVNA) are again hosting a fantastic competition with prizes for the following categories;
Category A for Vet Nurses | Design a digital poster or infographic 'Showing the role of the Veterinary Nurse'
Category B for Vet Nurses | Record a short educational video of 5 minutes or less that helps pet owners care for their pets
Category C for Pet Owners | Take a picture of your pet and complete the sentence "I love my Vet Nurse because….."
BVNA are encouraging all veterinary nursing staff to get involved to help promote their profession and the vital role that they play in practice.
For a free downloadable digital VNAM pack, please go to the BVNA website. Make sure you also like us on our dedicated VNAM Facebook page.
Come on what are you waiting for, get involved and join in the fun!