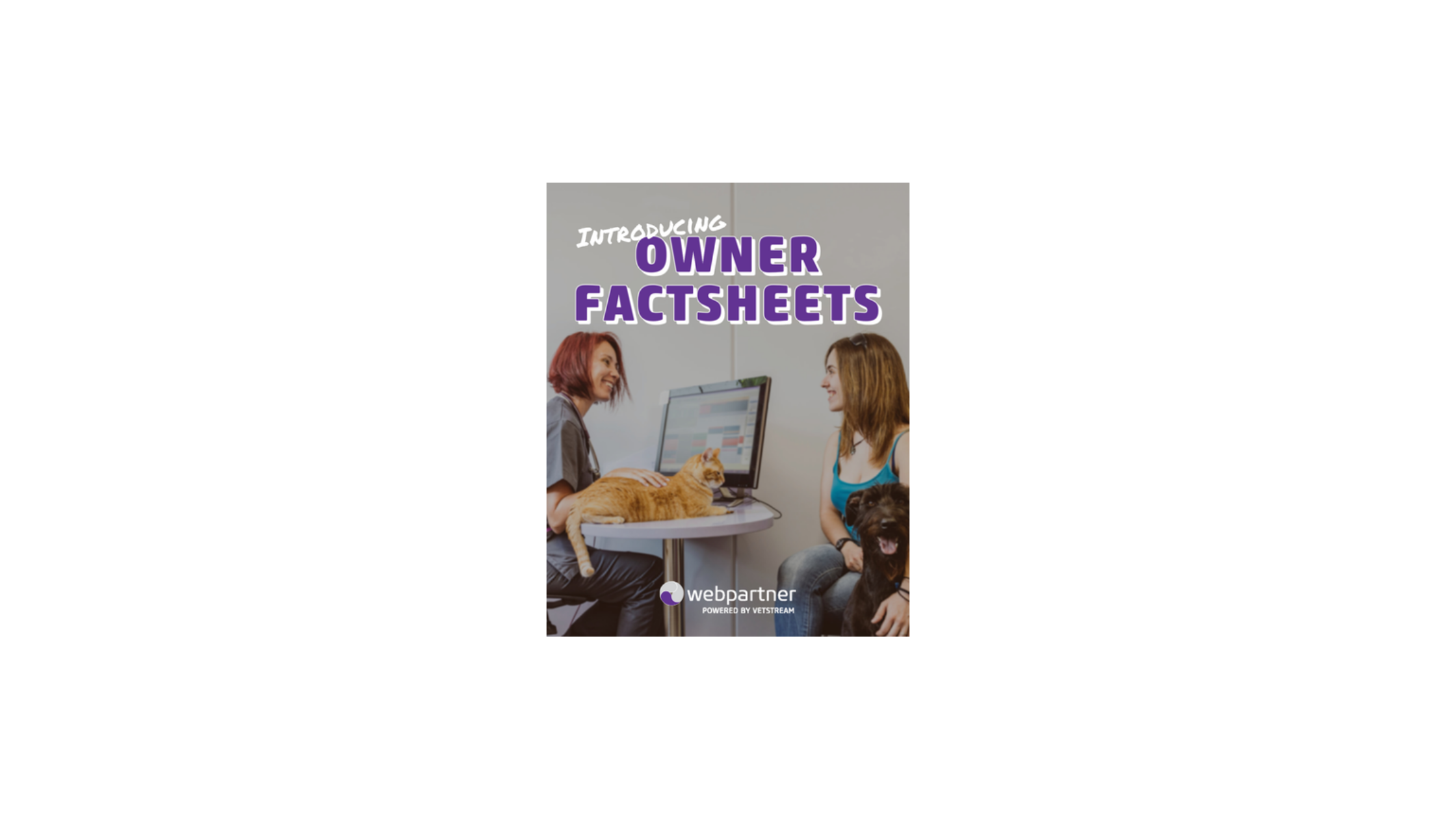 Vetstream announces the launch of a new service "Webpartner Owner Factsheets" to support clients to help them understand more about the health and welfare of their animals. Vetstream has more than 1,100 owner factsheets on its Vetlexicon Canis, Felis, Lapis, Exotis, Equis and Bovis services for practices to use during consultations. Now practices can be provided with a simple plugin so that their choice of the owner information can, via an automatic content feed, display on their practice website.
Webpartner Owner Factsheets cover a broad spectrum of animal health and welfare topics. In addition to being displayed on the practice website, they can also be printed or downloaded as PDF files so that the practice website can have a significant amount of new and trustworthy information and advice that is kept up to date on an ongoing basis by Vetstream via an automatic API feed.
These peer-reviewed factsheets cover a multitude of small and large animals. Within each species, there are a wide variety of categories from Behaviour to Heart Disease, and Travel to Diagnostic and Surgical Procedures, which help practices communicate efficiently with their clients.
Each category has a selection of articles that cover the health and welfare of the animal and are provided in a "question and answer" format. Any pet, horse owner or farmer will have all the fundamental care information they should need in order to support the care of their animals.
Mark Johnston, Managing Director of Vetstream said, "We have added two additional features to this new service: the first being that the factsheets can be displayed in the style of the practice website using the same font, colour and size of text for the different headings and subheadings, so the content matches the other content on the practice website."
The owner factsheets can be printed or saved as PDFs which means they can be sent as an attachment to a friend or family member and/or saved onto an internet enabled device for future reference. They are an important resource which are kept up to date on an ongoing basis by Vetstream via an automatic API feed so that practices can be confident that the content on their website is updated without them having to do anything once it is set up.
In addition, the practice can now send the web address of the page via email, text or Whatsapp that they want the client to read so that the client can be provided with the information about the condition that their animal is experiencing and the recommended treatment and have a more informed discussion with their family and friends about what the practice has diagnosed or is proposing, rather than perhaps not remembering everything that they were told in the practice.
Johnston continued, "We very much understand that practices want to focus on patient care and don't have the resources to write content and display it seamlessly on their practice website so we are able to provide this peer reviewed content on an ongoing basis to allow the practice team to continue to focus on patients and client care in the practice knowing that their practice website will now have a significant amount of quality and current information on their website for clients to refer so that this content will enhance their practice as the provider of credible information for owners and encourage their loyalty."
Ashley Doyle of Kingdom Vets who have the Owner Factsheets on their website www.kingdomvets.co.uk/ said "The new info sheets are great! Much more comprehensive than before. We will be directing more people to that resource;
it has been underutilised previously."
Practices can select one of three options to suit their practice type: of a single species, a companion animal bundle (from Canis, Felis, Lapis and Exotis) or also include the factsheets from Bovis and Equis services.
For more information on this new service is available on https://vetstream.ltd/webpartner/ or via telephone on +44 (0) 1223 895818.