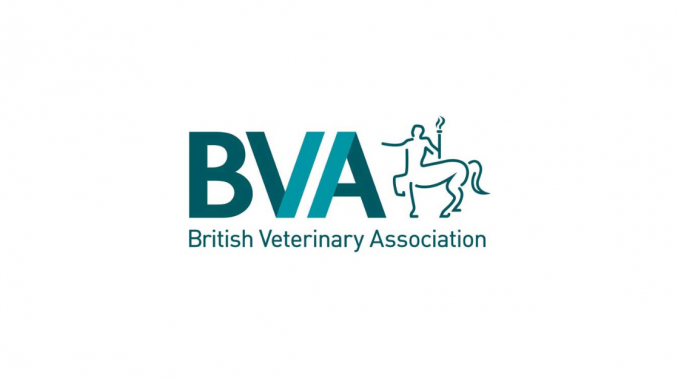 The British Veterinary Association (BVA) has announced Dr. Hannah Hunt as Young Vet of the Year 2022. A young mixed practice vet, Hannah has been awarded the prestigious prize in recognition of her passion and exceptional dedication to her high-level work across multiple species including farm animals, equine and companion animal practice.
Dr Hannah Hunt, from Aberystwyth, was presented with the award at BVA's Gala Dinner, held at the London Marriot Hotel in Canary Wharf as part of this year's London Vet Show (17 November 2022). The award is supported by Zoetis and celebrates the work, commitment and innovation of vets in the early stages of their career.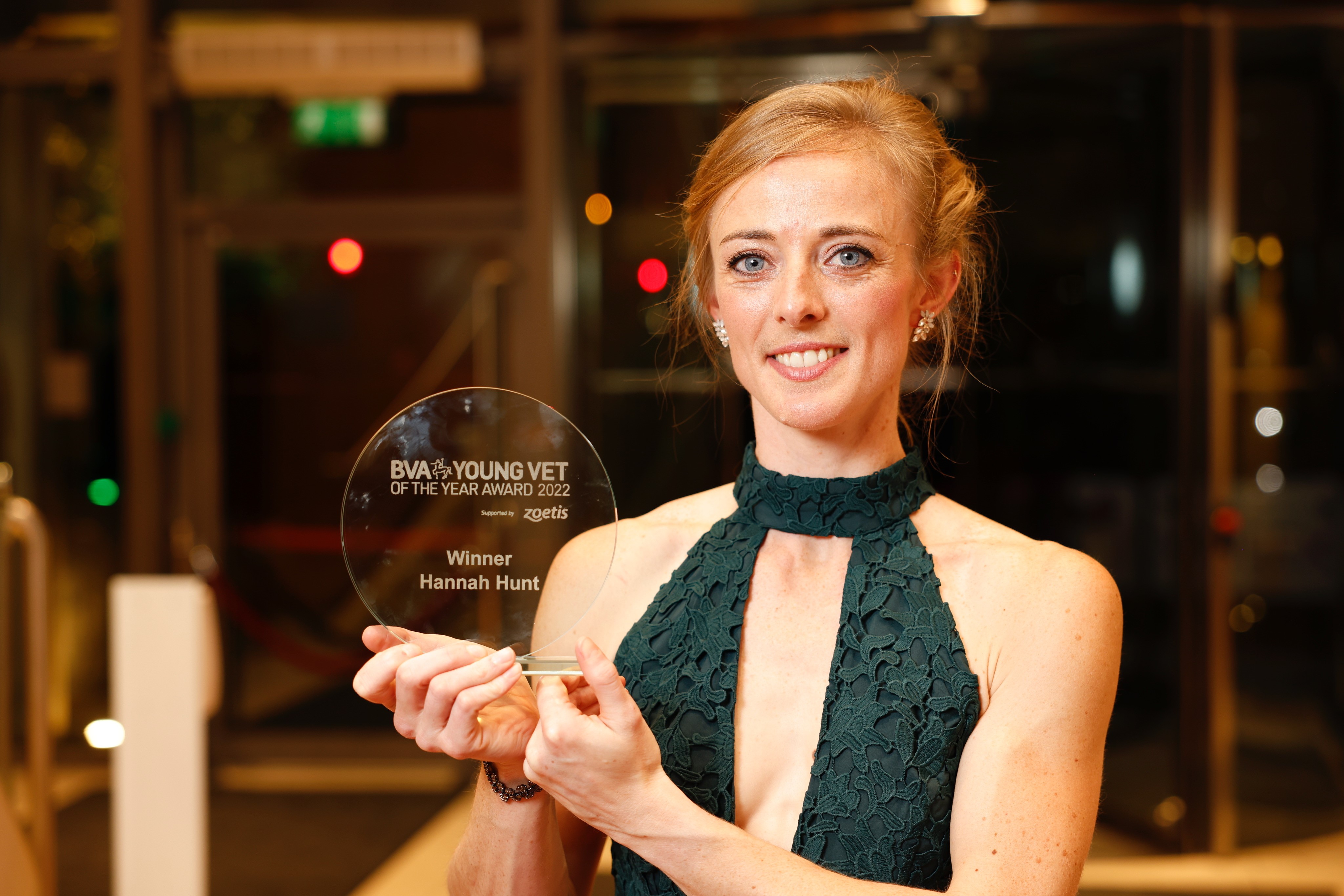 She was selected from a field of more than 100 entrants by the award judges BVA President Malcolm Morley, President of the Royal College of Veterinary Surgeons (RCVS) Melissa Donald, Professor the Lord Trees, Zoetis National Veterinary Manager Jonny Lambert and last year's winner of the award, Alex Davies.
Dr Hunt was nominated for her dedication to excelling in first-opinion practice through her farm, small animal and equine work as a mixed animal vet in Aberystwyth. Hannah, who graduated from the Royal Veterinary College in 2015, has also appeared on national radio giving veterinary advice and on children's television to promote being a "big animal vet".
On becoming British Veterinary Association Young Vet of the Year 2022, Hannah said: "This is fantastic! I'm so pleased to accept this award. I want to say a huge thanks to my practice for giving me the freedom to explore my passions and enabling me to work with a wide of range of species. I want to particularly mention my mentors Dafydd, Phil and Kate, who inspired me to focus on what I love."
BVA President Malcolm Morley said: "Hannah's incredible enthusiasm and passion for her work as a mixed-practice vet really made her stand-out to us. She is excelling in her work across species, which is challenging enough, but she's also doing it at a high level. It is great to recognise the contribution that Hannah and other first-opinion vets make to our profession. I don't mind saying, if I had all of the jobs she does in one week, I would think I had a pretty intense week ahead of me!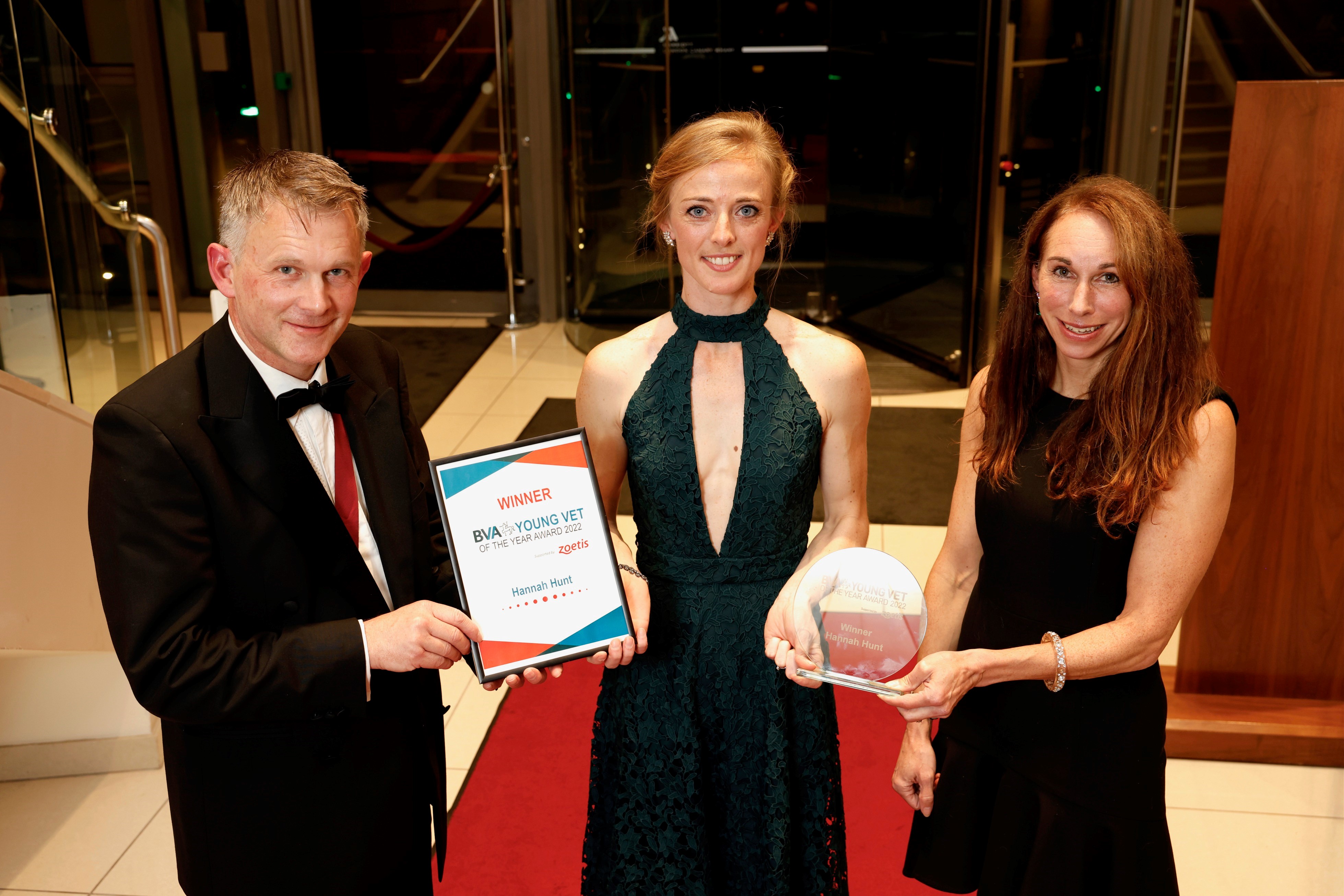 "Hannah is constantly striving to learn new skills and to progress in her career and is even learning to speak Welsh to strengthen relationships with her Welsh-speaking clients in her bi-lingual practice. A huge congratulations to Hannah, we know she has a bright future ahead of her."
Sarah Heming, a Public Affairs & Communications Director from Zoetis, said: "'Busier than ever, a year of complete change', are words directly from our nominees indicating yet again that the pace and demands on the veterinary profession is certainly not slowing down. Even more reason to stop and recognise those around us who are making a difference. Well done to everyone who received a nomination and in particular, congratulations to Hannah. Here at Zoetis we are proud of being in a position to help facilitate this level of recognition for such exceptional contributions."
On the other finalists, fish vet Alison Brough from Moffat, and small animal vet Kirsty French from Milton Keynes, Dr Morley added: "The judges found it unbelievably difficult to narrow the nominations down to a final three. And selecting just one winner was even harder.
"Alison is a fish vet with Scottish Sea Farms and is making a huge impact to the lives of aquatic animals thanks to her people focused approach to her work. She has made a big difference to her sector, equipping those who work most directly with farmed fish with the skills and knowledge to deliver the very best care for these animals.
"Kirsty has really made her mark as a small animal vet at her Vets4Pets practice. As well as excelling in her clinical work, she is championing environmental sustainability, not just in her own practice, where she has helped to reduce its carbon footprint, waste and anaesthetic gas usage, but across the whole Vets4Pets group.
"Both of them are to be applauded for their dedication and top-quality work, they are a credit to the profession and are well-deserving finalists. We wish them all the best for the no doubt shining careers."
In partnership with Zoetis, BVA's Young Vet of the Year award, which is now in its 4th year, highlights the outstanding work of young vets who are making a significant contribution whether in their workplace or the wider veterinary community. It aims to share and celebrate an exceptional young vet who leads, inspires, and goes above and beyond what is expected of them early on in their career.
Previous winners have been Dr Alex Davies in 2021, who won for his role in developing and delivering numerous educational projects for students applying for educational medicine as well as a highly praised virtual veterinary work experience programme. 2020's winner was small animal and exotics vet and star of CBBC's 'The Pets Factor', Dr Fabian Rivers, who wowed the judges with his ongoing proactive contributions to the veterinary profession and his passion for raising awareness around exotic animal care. The first winner of the award, in 2019, was farm animal vet Emily Craven, who supported her local practice at a time of need and demonstrated a passion for her work around lameness and mobility in cattle.