Veterinary Mental Health Champions (AQA Level 2 Accredited)
1st August 2023

-

1st January 2025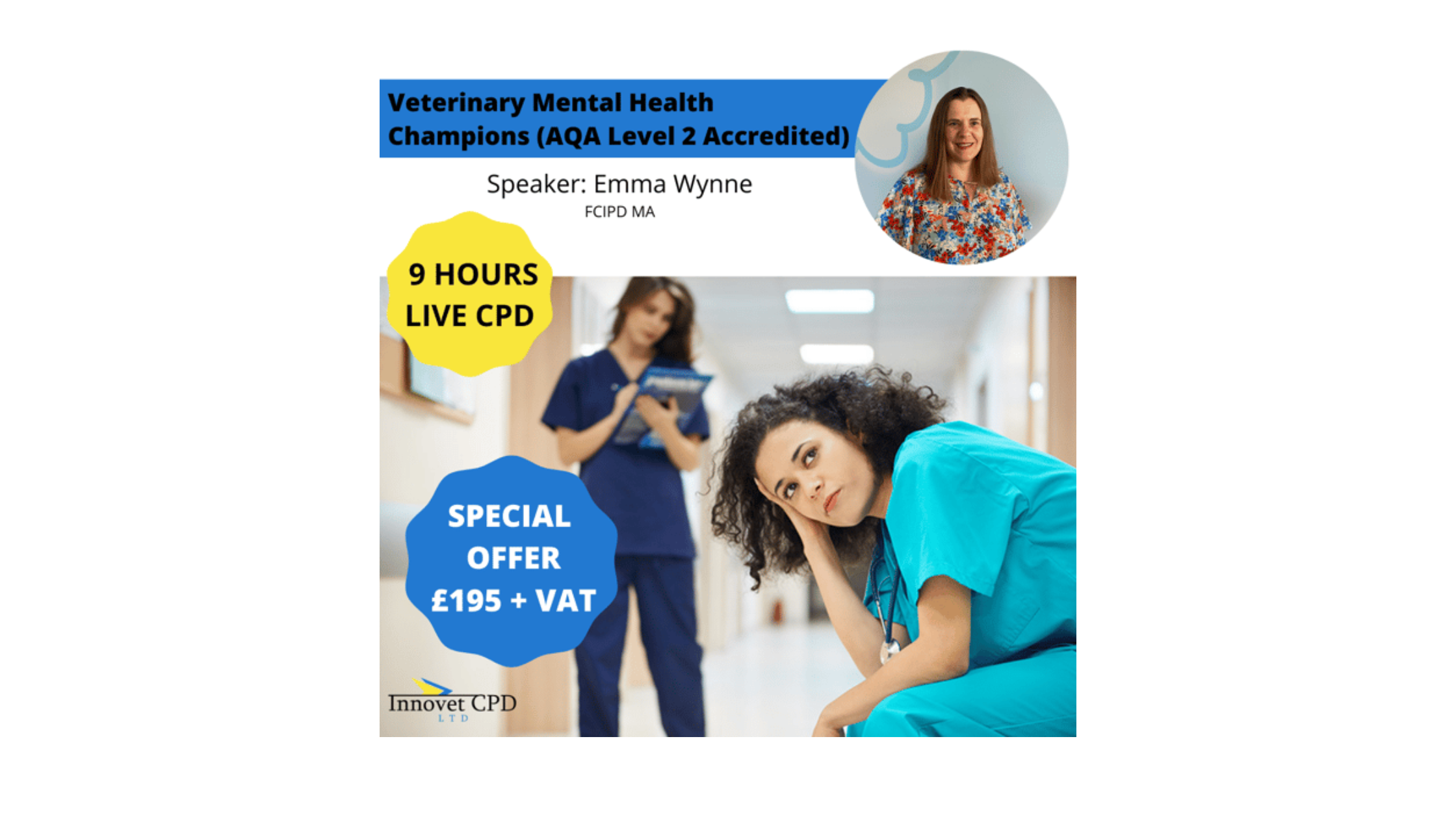 Train to become your practice mental health champion, using real (anonymised) scenarios and reference to research and best practice from within the veterinary industry.
Do you want to help your team create more 'Good' days at work?
As a veterinary professional, you know better than anyone how working in this industry can impact your mental health.
Long hours, demanding clients and the emotional toll of caring for sick animals can all affect our mental wellness.
That's why we're excited to offer our AQA-accredited online course in Veterinary Mental Health Champions.
This course is designed specifically for veterinary professionals who want to develop the skills and knowledge to better support themselves and their colleagues in managing the unique challenges of working in this industry.
Using real (anonymised) scenarios and references to research and best practice from within the veterinary sector
Over three weeks, you'll learn about a range of topics related to mental health and well-being, including:
Understanding the signs and symptoms of common mental health conditions.
Building Resilience and Coping Strategies.
Creating a culture of openness and support in your workplace.
Developing practical skills for supporting colleagues struggling with their mental health.
Our course is delivered online so that you can fit your learning with your existing commitments.
And, as an AQA-accredited course, you can be confident that the training you receive is of the highest quality.
But don't just take our word for it – here's what some of our previous students have said about the course:
"I found this course incredibly informative and useful. It has given me the tools to support my colleagues better and improve my mental health."
"I was initially nervous about studying online, but the course was well structured and easy to follow. I would highly recommend it to anyone working in the veterinary profession."
Enrolment for our next course is now open, with places limited to ensure a high-quality learning experience for all participants.
Take advantage of this opportunity to become a Veterinary Mental Health Champion and make a real difference in your workplace. You can click the link below to find out more and secure your place.
Plus,
Gateway HR will donate £35 to Vetlife for every place booked on this course.
The course is delivered online over three half-day sessions on the 19th, 26th of September and 17th of October 2023..
Morning Sessions: 9.30 am-12.30 pm.
Investment in this popular AQA Level 2 Accredited Course run over 3 x (3 hours) sessions has been discounted for you.
The next intake will be at the full price. So you can go ahead and grab your tickets now and take advantage of this offer.
Normal cost £295 + VAT
One-Time Discounted Price for you £195 + VAT