Katie Mantell is set to join RCVS Knowledge as Chief Executive Officer on Monday 4 December 2023, and will take on the task of helping to advance the quality of veterinary care.
"It will be an enormous privilege to lead an organisation that seeks to support the veterinary professions," said Katie. "High-quality veterinary care plays a crucial role in society, from ensuring the health and welfare of animals to playing a vital role in safeguarding public health. I am very much looking forward to working with colleagues to build on RCVS Knowledge's great work to date to support and catalyse improvements in veterinary care."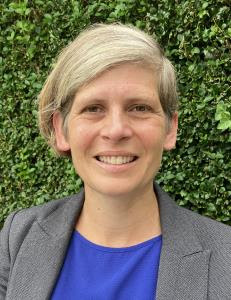 Katie has more than two decades' experience in the human health and science sector, and RCVS Knowledge is excited that she will soon be applying this expertise to the global veterinary community. She will join RCVS Knowledge from UCLPartners, where, as Chief Engagement Officer, she leads communications and member engagement for a health partnership that seeks to solve the biggest human health challenges through research and innovation.
Her previous experience includes leading communications and digital engagement at The King's Fund – an independent charitable organisation working to improve health and care in England. During her time there, Katie established a multi-award-winning digital team, provided oversight of library services, and led work to explain the complex health and social care system to a broad audience.
Katie started her career in science journalism, working for an academic publisher and then as a news editor on science and technology for global development. She has also been a trustee of St George's Hospital Charity and is a member of a trustee subcommittee of the Mental Health Foundation.
Amanda Boag, Chair of the RCVS Knowledge Board of Trustees said, "I am really delighted that Katie will be joining our team. Katie's background in healthcare policy, research, and innovation will be invaluable in steering us on the next steps in our journey."
Katie succeeds Chris Gush, who joined Healthcare Quality Improvement Partnership as Chief Executive Officer in August.