Enhancing the Euthanasia Experience Part 2: 'Making It Easier For All' 1-Hr CPD
22nd August 2023

-

1st January 2025

Free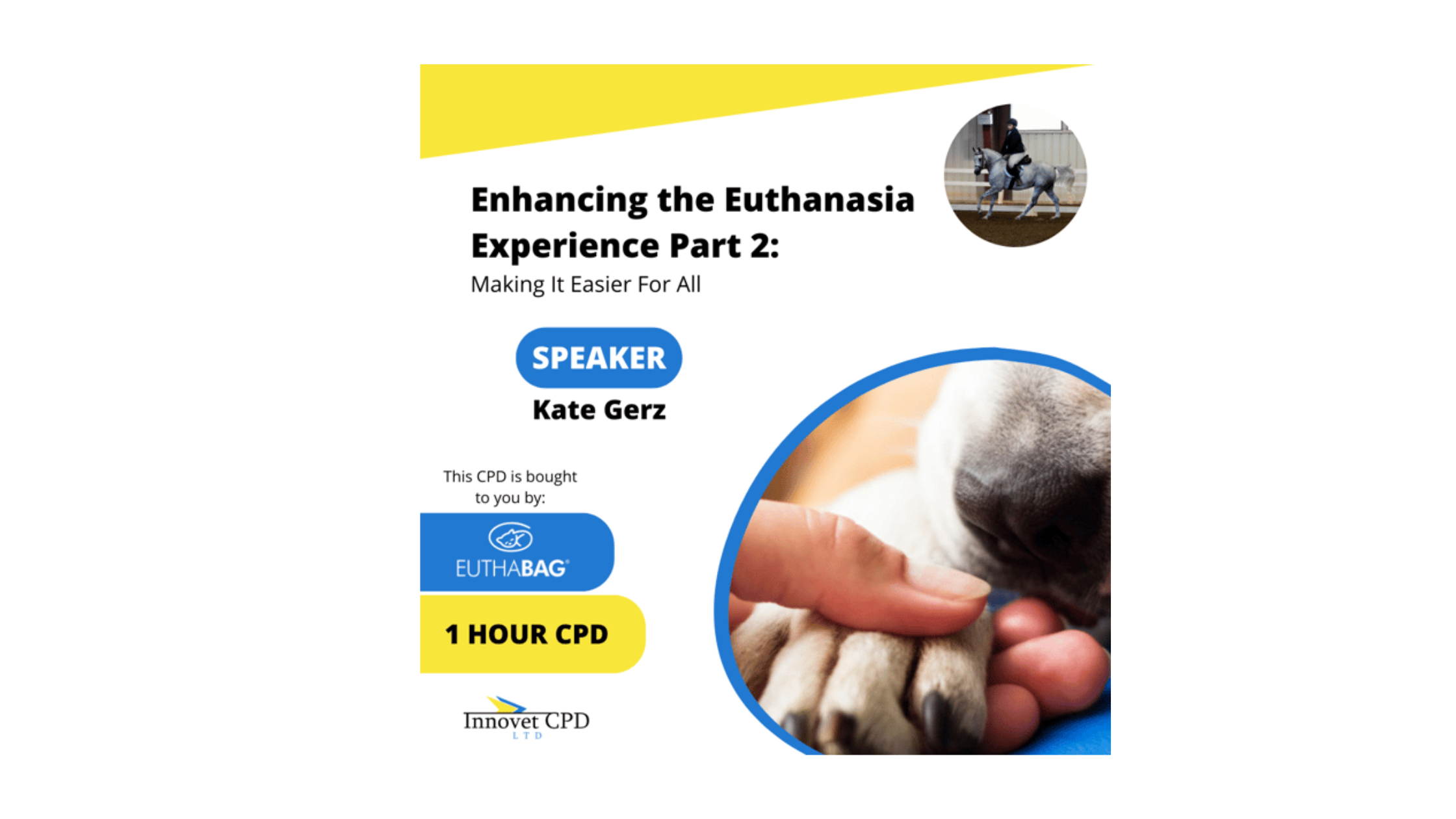 Who is this course for?
Is this course for me?
Give Your Patients the Gentlest Goodbye: Enhancing the Euthanasia Experience Part 2 'Making It Easier For All' CPD Course for Veterinary Nurses.
Euthanasia is a deeply personal, challenging part of our work. It's a farewell that needs understanding, empathy, and skill.
As veterinary nurses, we see the intense bond between pets and their owners daily. This bond becomes particularly poignant at the end of a pet's life when a compassionate, respectful, and professional euthanasia process can significantly ease the distress of the pet and its owner.
If you're a dedicated veterinary nurse looking to enhance your skills, deepen your understanding, and elevate your approach to this emotionally charged procedure, our "Enhancing the Euthanasia Experience," Part 1 CPD course in partnership with Euthabag is tailor-made for you.
WHY TAKE THIS CPD?
1. Empowerment through Knowledge: Delve into the science and ethics of euthanasia. This course will equip you with the most current knowledge.
2. Develop Emotional Intelligence: Gain a deeper understanding of pet owners' emotional stages, how to navigate conversations about euthanasia, and how to provide empathetic support during this difficult time.
3. Skills and Techniques: Improve your technical skills and learn how to create a calm, dignified, and respectful environment for euthanasia.
WHAT YOU'LL LEARN:
Non-Verbal Language and Empathy.
Support Team Presence.
Mental and Client Preparation.
Sedation protocols.
The Euthanasia Procedure.
The Stages of Grief.
Honesty and patience.
Remembrance: A Dignified Send-Off.
Kate Gerz from Euthabag designed and presented this bite-sized course, helping to support you whilst ensuring a comprehensive and empathetic approach to this challenging subject.
JOIN US!
By choosing our "Enhancing the Euthanasia Experience" course, you are choosing to make a profound difference in the lives of your patients and their owners during their most vulnerable moments.
Remember, we are not just providing a service but guiding families through a delicate transition. Let's honour their trust in us by offering the most compassionate care possible.