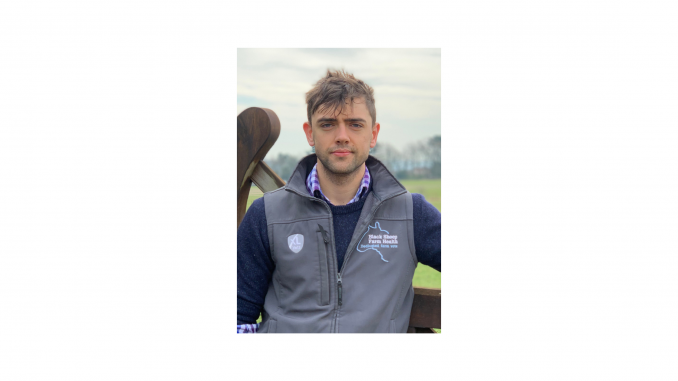 Black Sheep Farm Health, an independent farm practice in Northumberland, has appointed Kaz Strycharczyk as a new partner. Kaz, who graduated from Cambridge in 2017, joined the practice on its establishment in 2018 and has been with the team for every step of their journey. Over this time Black Sheep Farm Health has built up a strong reputation with local farmers as a dedicated independent practice and has become known as a proud member of the XLVets community. Black Sheep Farm Health is the only farm-exclusive practice in the UK to have a caseload of nearly 100% beef and sheep, and Kaz and the team are strengthening the practice's position as a respected source of expertise in these areas.
Black Sheep Farm Health was founded by Jenny Hull and Jack Sheldrake, who were joined by partner Joseph Henry later in 2018. All three are delighted to welcome Kaz to the fold. "Kaz has built up really great relationships with local farmers during his time here and we've had lots of positive messages from clients who've heard the news," says Jenny.
Kaz himself is keen to get started in his new role. "It's a pleasure to be given the chance to help shape the future of the practice," he says. "I'm looking forward to getting stuck in. And it's great that our clients will know that I'm in it for the long haul and I'll be with Black Sheep Farm Health for many more years to come."
Kaz explains that his commitment to the practice stems from a shared belief in a proactive approach to veterinary care. Black Sheep Farm Health takes a holistic view of farm veterinary services, exploring in depth how to use nutrition and herd health planning to maximise productivity, health and welfare. "Our aim is to ensure that the money local farmers invest in our service gives them a return, not only financially but also in terms of improving ease of farm management and animal welfare," explains Kaz. "When it comes down to it, we're looking to help our clients build a sustainable future."
As the future unfolds, Kaz believes that there will be rising demand for the kind of proactive service offered by Black Sheep Farm Health, and that the practice will increasingly share their expertise with other vets. As the only farm-exclusive practice in the UK with a virtually 100% beef and sheep caseload, Black Sheep Farm Health are becoming recognized as a valued source of insight. "We're looking to strengthen our position as the go-to practice for expertise in our area," says Kaz. "We're already performing some consultancy work in continental Europe, and we also offer CPD courses for vets looking to improve their offerings to beef and sheep clients."
With this commitment to clinical excellence a key part of the practice philosophy, Black Sheep Farm Health are a valued member of the XLVets community of independent practices. Kaz explains that the ability to share knowledge and skills across the community is a real advantage for the team. "By supporting each other and sharing best practice, we can all improve the standards of veterinary care that we provide," he says. "It's great to reap the advantages of a network while still retaining our independence."
Alice Renner, Farm Animal Marketing Executive at XLVets, celebrates the news that Kaz is coming on board as a partner and emphasises the benefits this brings to the practice. "It's fantastic to see opportunities for younger members of independent practices to grow so quickly within the business helping the practice go from strength to strength. With Kaz joining as a partner, Black Sheep Farm Health are reinforcing their foundations for a long and sustainable future," she says.
The XLVets community of independent practices work together to share best practice and support each other. Members benefit from collaborating with like-minded practices while retaining their autonomy and clinical freedom. To find out more about XLVets, visit https://www.xlvets.co.uk/the-boss/.